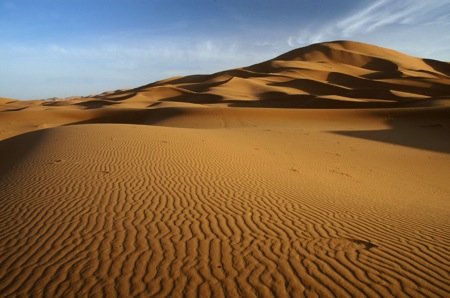 The Touareg freedom fighter Mano Dayek once wrote. "The desert will not tell you about itself--it is a way of life." The nomadic tribes of "Blue Men" (a group of nomadic camel herders originally from Timbuktu) who have lived for generations in the Moroccan Sahara understand this better than most. The desert is partly a state of mind that requires you to bow to nature in the search for humility so prepare yourself for enlightenment here amongst the billowing ergs (dunes), stark stony hamada (plains), and scattered oases.
An expedition into the deeper desert provides a glimpse into a forgotten world. The desert may be entered by camel or jeep. Many people also snowboard.
My trip will be near Merzouga. Fodor's says that en route to Merzouga and the dunes are hundreds of holes along the roadside that look like giant molehills. They are actually an ancient irrigation system designed in Persia more than 3,000 years ago and first brought to Morocco by the Arabs in the 12th century. The wells are call khettara, and access water from the natural water table, channeling it through underground canals to different palm groves.
Overseas Adventure Travel has provided a desert experience that will entail two nights in a canvas tent in a desert camp--and a camel ride.