At long last I have arrived in Le Puy!!
After a 14.5 hour plane ride, I landed in Lyon, France, to be met by the Sisters Line, Eluisa and Anita of the International Centre of the Sisters of St. Joseph.
My flight was very smooth and on time. The only trouble was getting into Lyon. We experienced bad, overcast clouds and stormy weather and an extremely bumpy ride. We circled the city for about 20 minutes with the possibility that we would have to return to our starting point, London, but the clouds cleared and we arrived safely only half an hour late.
Customs was very long and slow but once I passed through the border (la frontera), I saw the sisters who greeted me with great excitement. Line found a parking space very close to the exit and off we went--only to meet a bouchon (traffic jam)--and several more along the way to LePuy.
I hadn't eaten since breakfast (10 a.m.) and fortunately by 7 p.m. we were all hungry and stopped for salad and sandwich along the road.
Finally, we reached the Centre--at 11 p.m. and were greeted with a luminescent full moon and a quiet and cool night. Merveilleux!! We stood outside the Centre for a few minutes to take in the night. As usual, Notre Dame (center) was lit up and so was St. Michael (foreground), which was very eerie seeing it from the back. The lights changed and when it turned blue, it looked like a medieval picture.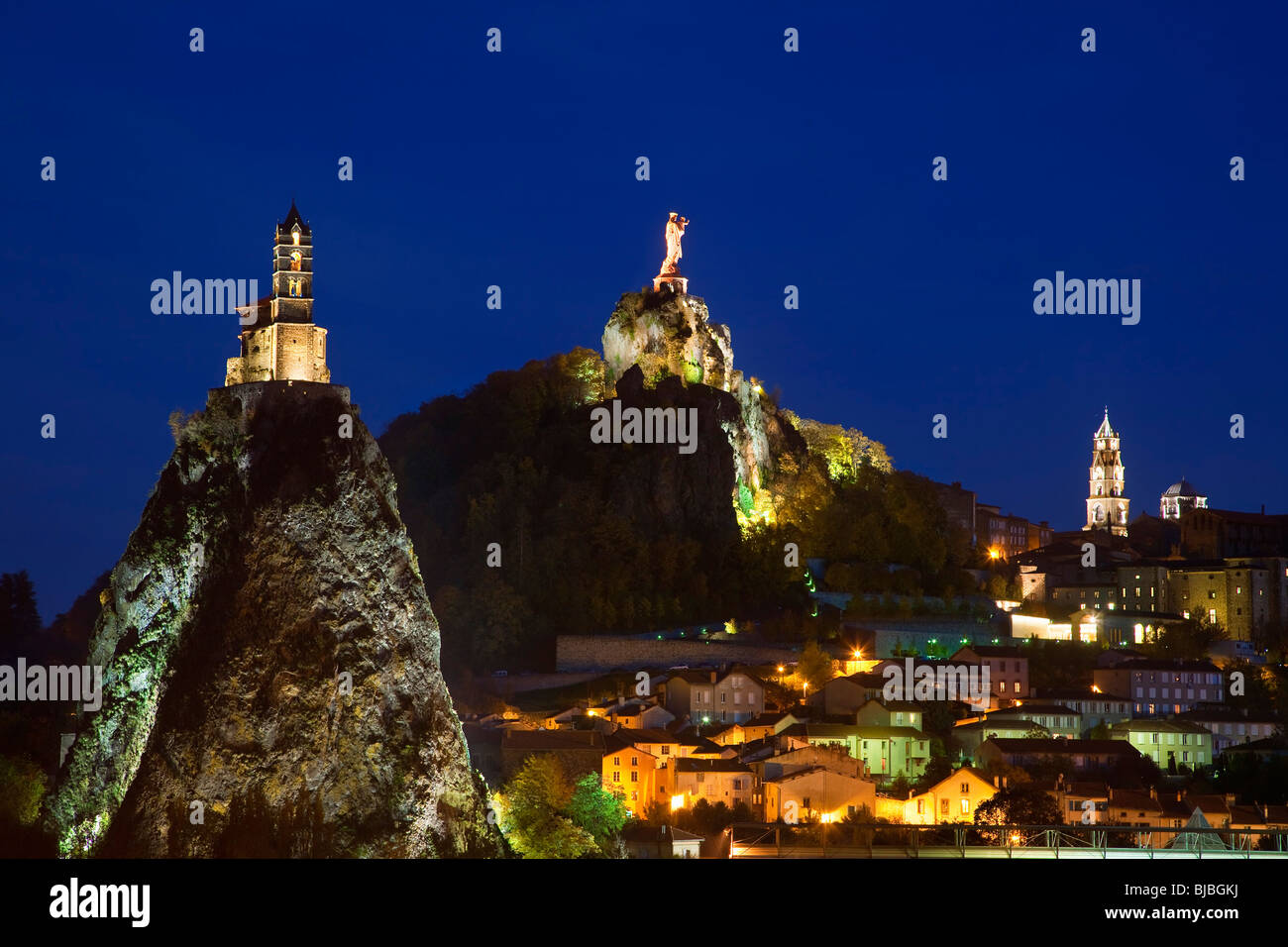 Here is front-facing St. Michael, which I haven't yet seen.
As I made ready to sleep under the clear sky of stars, moon and illuminated churches, the cats of the neighborhood called to one another as if in song. I fell asleep in a prone position and slept through the night very comfortably in my new room in France. I have arrived. I am safe. And, I am content.