This is a family we met at a hospital emergency room. We sat together for at least 90 minutes and formed a little, temporary community where we talked, laughed, had some fun while we waited to see the doctor.
Eluiza and I had been hosting two sisters from New Zealand for three days. We took them to all the high points around town and they enthusiastically enjoyed them.
Things had been going very well--until their last afternoon with us. We were on our way back home after enjoying lunch at a restaurant and visiting the Kitchen and the scenographic history of the Sisters of St. Joseph. W
e had planned to hang out at the house, go to Mass, and have a simple evening meal when we returned. Unfortunately, Eluiza tripped on a huge crack in the sidewalk and fell off the curb and onto her shoulder! She could not move her arm and the pain was excruciating.
Colleen and Marie
Marie and Colleen, who were walking a few meters ahead of us, heard the fall and ran toward us. Fortunately, Colleen is a nurse, so once she got Eluiza up again, she walked with her. After going down the steep hill, the two of them stopped at a small park at the bottom. Eluiza was feeling whoozy. Actually, she was in shock and had turned white. They eventually went to a pharmacy across the street where the pharmacist took Eluiza's blood pressure and recommended that she go to the hospital emergency center right away.
Meanwhile, I walked home to get the car so I could take Eluiza to the hospital. Marie came with me and then stayed at the Centre to pray to St. Joseph that everything would work out. He was already helping us get through this incident and he would proved to be with us many times more.
We made it to the hospital in a matter of minutes, and Eluiza continued to be in terrible pain. She sat down and asked me to go to the check-in window to register her. As I waited for a couple people in front of me, I practiced what I would say in French because I had to get it right. Fortunately, when it was Eluiza's turn, she came up to the window just in time and explained what had happened to her. (I was relieved!)
We waited another 30 minutes before they called her. They gave her a sling for her arm and sent her to Radiology, which was a long, winding trip around the hospital. The x-ray technician examined the results and mentioned that she had fractured her shoulder. A fracture is apparently better than a break, so we thanked St. Joseph.
While we waited, which turned out to be another 90 minutes, we began interacting with the people around us.
A family was there with their little girl who had a bee sting in her leg and a huge bubble on her hand, the result of her swinging on a metal bar. When
I talked to Eluiza and Colleen in English, the little girl's eyes brightened because she recognized the language. Perhaps she was recognizing that
English was a living language that people actually spoke and not just a subject she took in school.
She wanted to engage me. She told me that she was 11 years old and in her fourth year of learning English. She also shared stories about her love of sports, which included soccer, basketball, and track and field. H
er very extroverted father also told us that she was a born athlete.
Whenever I attempted to speak French and would goof up, the whole family would correct me--in unison, which was very funny to me. I eventually told them I was a writer and asked if I could take a picture of them for my blog. They said yes. I rose from my chair to position myself for the shot. When I turned around, they were all posing (see photo above), which also made me laugh because it was so unexpected.
While we waited for the doctor, we also met another patient, a truck driver who needed some emergency attention. He was accompanied by his friend, a tour bus driver. The truck driver told us he had been hauling sheep milk for cheese over the past 30 years. He seemed to take a shine to Colleen and spoke in French to her even though she didn't have a clue about what he was saying. She just responded to him with smiles. Apparently, he just needed someone to listen to him, and he saw that she was good at that. Here is their photo.
A young man in colorful pants that looked like a cross between Spiderman and Batman walked past us a couple times and attracted
everyone's attention.
I told the group that I hoped to get pants like his for Christmas, and t
hey all laughed.
After we had been sitting in the waiting room for a long while, Eluiza suddenly got the idea--even in her pain--to ask the group if anyone knew the way to the St. Etienne train station. We were going to take the sisters there early the next day so they could connect to a train that would take them to the Lyon airport. The truck driver and the tour bus driver both knew the way and gave us directions. That was a lucky break, too, and we thanked St. Joseph.
Finally, the doctor called Eluiza. She took one look at him, became alarmed, and asked me to come with her. He looked a little like Frankenstein, was very business-like, and spoke very fast. Although the ER didn't seem that busy, he seemed to be in a hurry. Finally, he gave Eluiza a prescription for pain and a special sling for her shoulder. We went to the pharmacy in town just minutes before it closed, and the pharmacist, who was very nice, showed us how to put on this complicated sling.
By this time we had missed Mass and Eluiza was in no condition to go anyway. We went back to the house and had a light dinner of soup and sandwiches, which the sisters helped me prepare. All had gone well under the circumstances, and we all thanked St. Joseph.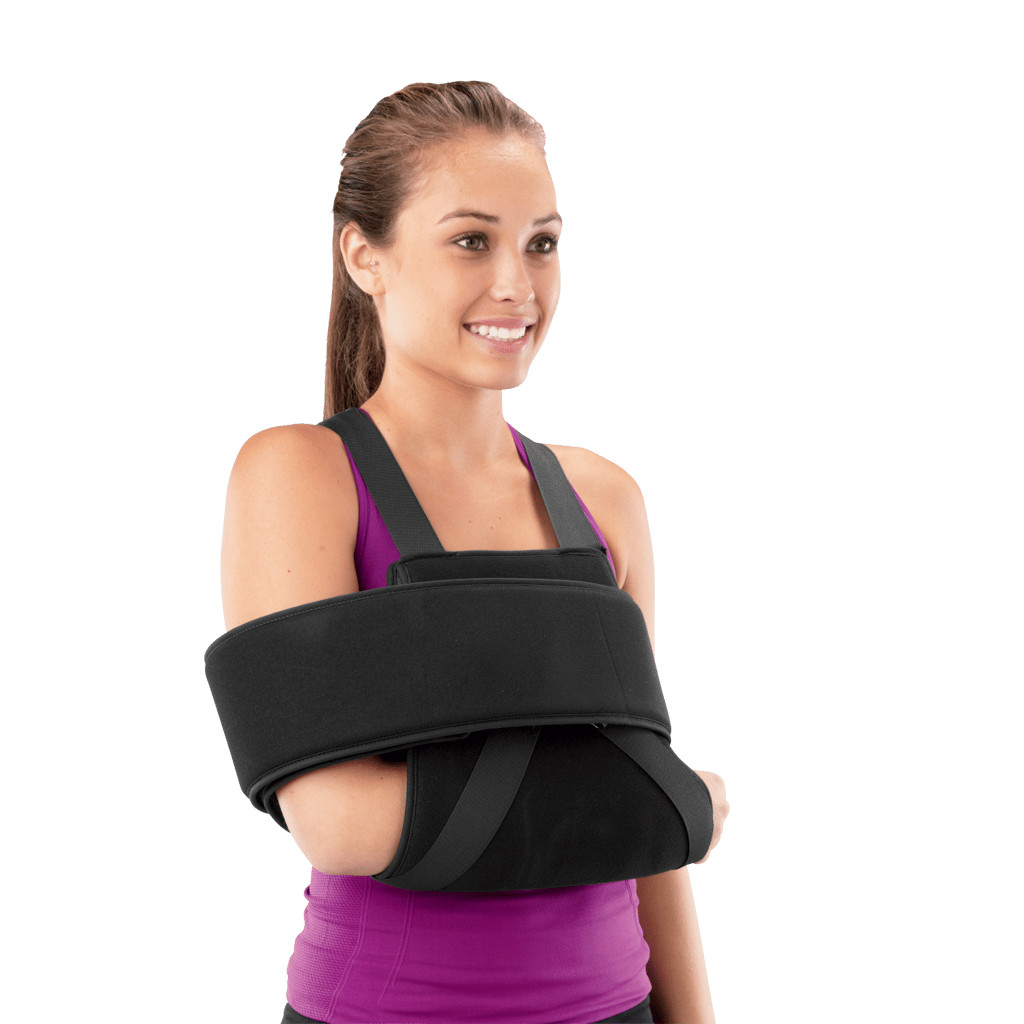 Here is what Eluiza's shoulder sling looks like, thanks to Google Images. She didn't want her photo on my blog for all the world to see.
Almost two weeks have gone by and Eluiza is still in pain, although her shoulder is healing. A big part of her distress is that the Centre was about to go into its busy season, and she wouldn't be able to work. However, she didn't have to worry because St. Joseph would take care of that, too. A young Indian sister who is visiting Lyon for a while, will take Eluiza's place and help out at the Centre.
Eluiza also discovered that t
he French health care system provides a nurse to come to a patient's home to bathe her, cut her finger nails and attend to any particular needs. Ingrid is Eluiza's nurse, and she is very gentle and kind. Ingrid also showed Eluisa how to set up her bed with pillows so that her shoulder could be comfortable. Eluiza had been sleeping in a lazy boy chair for a week because it was the only place where she could sleep--even though it wasn't much. Sleeping in her bed with this new set-up has helped her tremendously. Only four more weeks until this ordeal is over!
When Ingrid isn't there I am Eluiza's nurse. I wrap the sling around her, tie up her hair in a pony tail, open jars, peel back the tops of yogurt cups, cut her meat, cook our meals, put on her seat belt, and perform various other small things she can't do with only one hand. It has been an interesting lesson in what it takes to be a caregiver even at this minor level and to realize the important job that nurses do for their patients.
So even though tragedy had struck Eluiza, St. Joseph was with her and taking care of her throughout this ordeal. Good thing Sr. Marie was back at the house praying to him that afternoon!