Sisters Marie Phillippe, Rose and Marie Therese receive a gift book on Michigan
I am now in Lyon and living with three Sisters of St. Joseph of the Lyon, France federation. They have made me very comfortable as I move into my new home for the month.
Marie Phillippe and Marie Therese are both retired teachers. Marie Phillippe taught the little ones while Marie Therese taught in grades pre-school to 12. Rose was a parish minister.
The three sisters have lived together since 2012. They have one apartment on the 5th floor where two of them live and another on the 2nd floor where one lives. I am residing on the 2nd floor. Their kitchen, TV and community room are on the 5th floor.
On Saturday, Rose took me shopping for an Internet connection, which took an odd turn. The 5th floor has the Internet, but the 2nd floor connection is less dependable. Then we looked for a cell phone that texts and allows me to call the USA.
This little shopping trip took three hours and I was fortunately able to keep up with Rose, who is 76. She spoke to me in French most of the time and by some miracle I understood beaucoup!
Hôtel de Ville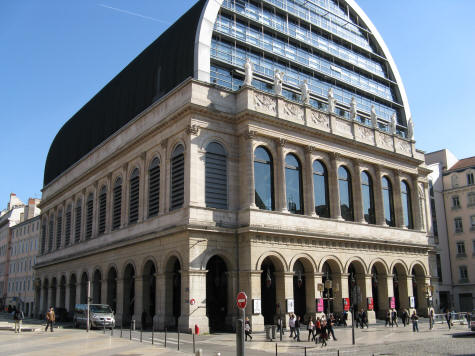 Opera House
The sisters live in the Part Dieu quarter of the city on Chaponay Street, which is near the Foch-Roosevelt quarter where a friend and I stayed last summer. The school for my French language classes is near the Hôtel de Ville--a huge, majestic building that we circled several times when we were lost. There is a square behind the building where people gather for various rallies. The Opera House faces the front of the Hôtel de Ville and people hang out there a lot, too. (Europe is definitely an outdoor culture. People even take their coffee in outdoor cafés--during the winter.
I feel fortunate to be in familiar places for this trip. It makes it a little easier to travel and begin this language experience. The last time I was here I was driving a car. Driving in Lyon is NOT a good idea by any stretch of the imagination. Too many cars, traffic jams, one way streets, and bicyclists who have no fear. It seems that my summer 2016 trip was a premonition or intuitive leap into the future since I am now here again.
On Sunday, Rose and Marie Phillippe helped me find the school and navigate the bus system. It's a 10-minute walk to the bus stop followed by a 15-minute bus ride and another 10-minute walk to the school.
Of course, I didn't have the address with me so the three of us went searching for the school. The sisters had the street name, so they knew where to go, it was just a matter of finding the right address and bus stop. Je m'ais senté mal! No big deal, Rose said.
On Sunday, we went to Mass and then had a dinner of vegetable soup, cooked endive, canulle (Lyon favorite) and a small container of goat cheese. I told the sisters about my time of working on a goat farm where I milked 9 beautiful goats, cleaned the barn, walked the pregnant does, and even caught a couple babies during delivery. The sisters were amazed. The farmer who I worked with has since expanded his hobby farm into a commercial dairy for cheese. In fact, he just sent his cheesemaker to Lyon to learn some new techniques.
Lyon has a reputation for fine French food. The sisters at LePuy told me that we would get real French food with the sisters in Lyon. We've had some delicious meals--which included fish soup. Aounsa horrid but it has 2 or 3 different flavors that were VERY satisfying. I'm just waiting for the snails, but I hope they don't tell me what they are until AFTER I eat them.